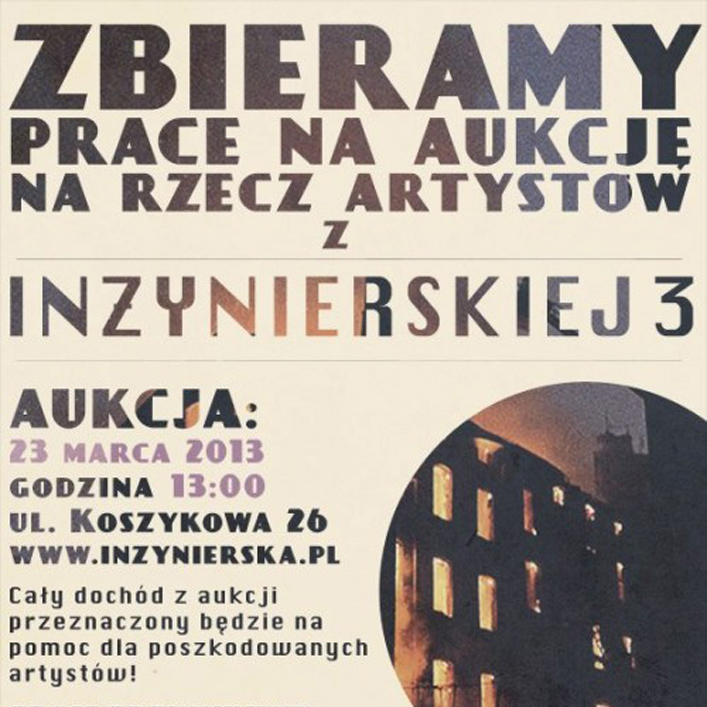 AUCTION FOR THE BENEFIT OF ARTISTS FROM INŻYNIERSKA 3 | MARCH 23, 2013
The auction held on March 23, 2013 in one of the historic rooms of the Library in Koszykowa Street in Warsaw was one of the largest charity auctions of contemporary art in Poland.
All proceeds from the event were earmarked for furnishing new studios for fifteen injured artists who lost their workspace and artistic output in a fire at Warsaw's historic outbuilding in Inżynierska Street. The call for works for the contemporary art auction held for the benefit of the artists was a great success. The most renowned Polish artists donated their works to the auction.
Approximately 150 works were collected, including paintings, drawings and photographs by many renowned artists, including: Paweł Althamer, Rafał Bujnowski, Robert Kuśmirowski, Maurycy Gomulicki, and the collage artist Jan Dziaczkowski who died tragically more than a year ago. Under the hammer will also go paintings by Wiktor Dyndo, Teresa Starzec and Dorota Kozieradzka, collages by Radek Szlaga and Anna Niesterowicz, etchings by Dorota Buczkowska, photographs by Zbigniew Dłubak, Paweł Kwiek, and Bownik, works on paper by Róża Litwa, Alicja Bielawska, and Honza Zamojski  and over a hundred other artists, no less important. Two days before the auction, an exhibition was opened at the library to display the collected works.
The auction was an expression of solidarity of the artistic community. In January 2013, a fire broke out in a tenement house in Inżynierska Street; well-known painters, photographers, cartoonists, creators of installations and videos, and performers lost their work and archives they had been compiling for years. Among them are two winners of Paszport Polityki (Polityka's Passport) – Nicolas Grospierre and Karol Radziszewski, as well as authors of exhibitions held in Poland and abroad, winners of numerous competitions and holders of the scholarship of the Minister of Culture and National Heritage: Anna Fryer, Michał Frydrych, Dominik Jałowiński, Arkadiusz Karapuda, Agnieszka Kicińska, Agnieszka Kieliszczyk, Rafał Kochański, Rafał Kowalski, Piotr Kopik, Olga Lubacz, Jan Mioduszewski, Olga Mokrzycka-Grospierre and Ivo Nikić.
The organizers of the initiative aiming at helping the artists were art historian Michał Krasucki, curators Katarzyna Szydłowska and Konrad Schiller, as well as the Nizio Foundation and the Polish Culture Foundation.